About Busia Compassionate Centre
The greatest needs at Busia Compassionate Centre is furthering access to financial education and services, creating sustainable income generating activities, and funding scholarships to put the children through secondary school.
​In 2007, World Council of Credit Unions started working with Busia Compassionate Centre in partnership with a U.S. Department of Agriculture (USDA) program aimed at mitigating the impact of the HIV/AIDS epidemic in western Kenya. One of the program's goals was to provide educational grants to children of HIV/AIDS-affected households through the area's savings and credit cooperatives (SACCOs), or credit unions. When the USDA program concluded in 2010, World Council continued to support the orphanage with the help of the global credit union movement.
By initially building a foundation to meet the orphanage's basic needs such as food, water, and shelter, World Council has proceeded to offer Busia's community access to financial education, services, and scholarships for the children through the orphanage's SACCO.
Busia's SACCO, now one of the first in Kenya to use e-SACCO methodology, allows members to make deposits and withdrawals from the mobile money transfer service, M-Pesa—furthering financial access and reinvesting funds back into the community.
For more information about Busia Compassionate Centre, download our fact sheet or fundraising flyer. Gifts to Busia Compassionate Centre are made through World Council's charitable arm, the Worldwide Foundation for Credit Unions, a U.S. 501(c )(3) non-profit organization. Donations are fully U.S. tax deductible. Please consider giving today!
About World Council of Credit Unions

World Council of Credit Unions is the global trade association and development agency for credit unions. World Council promotes the sustainable development of credit unions and other financial cooperatives around the world to empower people through access to high quality and affordable financial services. World Council advocates on behalf of the global credit union system before international organizations and works with national governments to improve legislation and regulation. Its technical assistance programs introduce new tools and technologies to strengthen credit unions' financial performance and increase their outreach.
​World Council has implemented 300+ technical assistance programs in 89 countries. Worldwide, 68,882 credit unions in 109 countries serve 235,000,000 people. Learn more about World Council's impact around the world at www.woccu.org.
Fundraising Flyer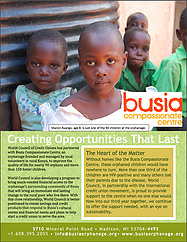 Fact Sheet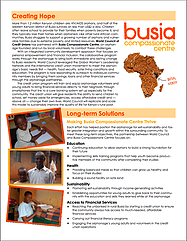 Contact us at:
Worldwide Foundation
5710 Mineral Point Road
Madison, WI 53705
+1-608-395-2000
info@busiaorphanage.org